Air Conditioning Service: AC Repair in New Mexico, Albuquerque, Rio Rancho, Santa Fe, NM and Surrounding Cities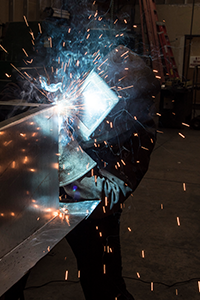 Aztec Mechanical is the only name you need to remember for AC repairs in Santa Fe, Rio Rancho, or Albuquerque, New Mexico. We have been exceeding the expectations of our clients in this state since 1977, and this level of longevity says a lot about our customer satisfaction rate.
Our service area is truly beautiful, unique, and vibrant, and New Mexico is a fantastic place to live. However, summer temperatures can sometimes reach the triple digits, and your air conditioner really gets a workout. If your unit goes down entirely, it can be absolutely miserable, and there can even be health risks involved for certain individuals. We provide rapid responses to emergency AC repair calls, and our emergency service line is open 24 hours a day, 7 days a week.
The technicians that comprise our team are highly skilled, experienced professionals that take what they do very seriously. In addition to our AC repairs in Albuquerque, Santa Fe, and the surrounding communities, we also sell and install air conditioning units. As a result, our technicians are trained on products that come from all of the major manufacturers, including Trane and Carrier. They work out of trucks that are very well equipped, and they understand all models, so they get the job done in just one trip if your air conditioning unit can be repaired.
We should point out the fact that we offer comprehensive AC repair services, so in addition to our residential repair work, we also provide commercial air conditioning repairs.
Many times, when our technicians go out on an AC repair job, they find that a very serious, costly problem could have been prevented if the proper maintenance was conducted along the way. We offer AC service contracts to residential and commercial customers, and a small investment in ongoing AC service can save you a lot later on. Plus, when your air conditioning unit is running efficiently at all times, you minimize energy consumption, and this will be reflected when you receive your power bill every month.
Contact Aztec Mechanical!
For AC repair and service in Santa Fe, Albuquerque and Rio Rancho, NM, Aztec Mechanical is the only logical choice. Whenever you need us, at any hour of the day or night, we can be reached by phone at 505-991-7395.