Air Conditioning Installation in Albuquerque, Rio Rancho and Santa Fe, New Mexico and Surrounding Areas
You have identified the ideal resource if you are looking for air conditioning installation in Santa Fe, Albuquerque, or Rio Rancho, New Mexico. Our company, Aztec Mechanical, has been a staple within the business community for decades, and we have continually expanded our capabilities. We believe in top quality work at affordable prices, and this is exactly what we provide for our New Mexico air conditioning installation clients.
If you are a local homeowner, you are well aware of the fact that the heat can get very oppressive in this area during the summer months. Your air conditioner works overtime year after year, and eventually, a replacement may be necessary.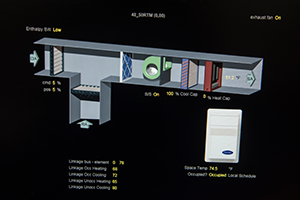 When you engage us to complete an air conditioning installation project, you should look at it as an investment rather than an expense. It takes a lot of power to keep an old, energy inefficient AC unit running. A new air conditioning system installation will keep your house cool and your utility bills will shrink considerably.
Our company is only as good as our design and installation team, and we have attracted some of the most skilled professionals in the state. Plus, we work with suppliers who provide us with top-notch air conditioning units that come from the biggest names in the business, including Trane, Carrier, and Goodman. These units come with full warranties, and they will be installed impeccably in a timely and efficient manner.
Commercial AC Installations
We have you covered if you are ever looking for a residential air conditioning installation resource in or around Albuquerque or Santa Fe. At the same time, we are commercial and institutional air conditioning installation specialists. Our company has extensive design/build capabilities, and no assignment is too large or complicated for us. We provide custom-crafted, personalized solutions, and we offer all of the latest automation technology to our commercial clients.
Contact Aztec Mechanical Today!
Customer satisfaction is what it is all about here at Aztec Mechanical. We offer nothing but the best when it comes to air conditioning units, and our air conditioning installation technicians are second to none. However, it all starts with the initial connection, and we go the extra mile to provide outstanding service from the first moment that you speak with us on the phone. If you would like to discuss your needs with one of our Santa Fe or Albuquerque, NM air conditioning installation specialists, we can be reached by phone right now at 505-884-2770.