Air Conditioning Maintenance and Air Conditioning Repair in Albuquerque, Rio Rancho, Santa Fe, and Surrounding New Mexico Areas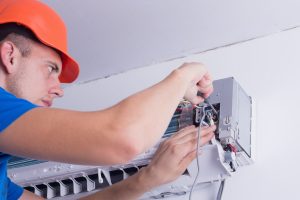 Aztec Mechanical stands alone as the premier resource for air conditioning installation, repair, and maintenance in Santa Fe, Albuquerque, Rio Rancho, and surrounding NM areas. One of our top qualities is our experience. We started working in the air conditioning business back in 1977. That's over 40 years of providing quality air conditioning service in New Mexico. How can we back our claims up? We have an A+ rating from the BBB and testimonies from customers and construction contractors from all over North NM from Santa Fe to Albuquerque.
Our team is comprised of highly skilled, experienced air conditioning professionals and mechanical contractors that are passionate about the work they do. Many of them were born and raised here in New Mexico and are not strangers to our climate. We place an emphasis on customer service from the first point of contact onward. Aztec Mechanical is a family business we intend to keep for years to come and we know we are only as good as our name. If you would like to see what our customers have said about our services in air conditioning in Albuquerque, Rio Rancho, Santa Fe, New Mexico, and surrounding NM Areas, take a moment to check out the testimonials page on this website.
Commercial Air Conditioning Installations in New Mexico
Did you know we have our own sheet metal shop with full HVAC duct and piping fabrication capabilities? We can handle commercial air conditioning installation projects of any size or scope throughout NM. Our talented HVAC design-build team can gain an understanding of your business and the nature of your facility to put their skills to work for you. Our group of engineers can draft the right AC installation for your building from ductwork to a total number of units needed. If you are a decision-maker for a medical facility, a manufacturing site, or any other type of commercial structure located in New Mexico, we can fulfill your air conditioner needs and exceed your expectations on every level.
Air Conditioning Repair
In addition to being experts on air conditioning repair issues, we also have a lot of experience working on all different makes and models. Our technicians travel well equipped with parts. In fact, our mobile and equipped vans mean your air conditioner can be fixed throughout NM from Albuquerque to Santa Fe including Rio Rancho and other surrounding communities. Having equipped vans also means we almost always get your air conditioning repair job done on the first visit.
Air Conditioning Maintenance
We are one of the top HVAC companies providing efficient and affordable air conditioning maintenance in Albuquerque, Rio Rancho, Santa Fe, New Mexico, and surrounding NM areas. Air conditioning maintenance can keep your system in good working order so a minimal amount of energy is being utilized giving you energy savings. Plus, regular AC maintenance can nip little problems in the bud before they become big ones and often pay for themselves by preventing repair issues.
If you would like to speak with us about a commercial or residential air conditioning installation, maintenance contracts, or air conditioning repair in Albuquerque, Rio Rancho, or Santa Fe, NM, we would be more than glad to help. We can be reached by phone at 505-884-2770, and there is a contact page on this website that you can use if you would prefer to send us a message.