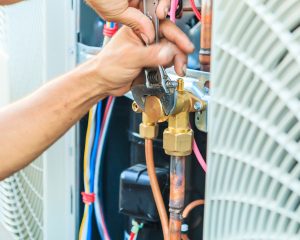 Aztec Mechanical has been the trusted resource for air conditioning repairs in Santa Fe, New Mexico since 1977, and this level of experience is hard to match. When you have been able to build your business over a period of four decades, you must be doing something right, and we are very proud of the reputation that we have established. As the capital of "The Land of Enchantment," this city holds a very important place within the fabric of the state, and we are very committed to its residents. From Kennedy to Las Dos to Lamy to El Rancho, for AC service in Santa Fe, NM Aztec Mechanical is the only logical choice.
Residential Air Conditioning Installation
The experienced air conditioning repair technicians that we have on our team are capable of fixing any system that can be repaired. Plus, our trucks are very well equipped with parts, so we can get the job done in just one trip in most cases. However, in some instances, a new air conditioning installation is going to be required, and we specialize in AC installations as well. We can help you select the system that is perfect for your home, and you will be pleasantly surprised when you find out about our value-based pricing.
Commercial HVAC Services in Santa Fe, New Mexico
We have all of your residential air conditioning installation and air conditioning repair needs covered, but our offerings do not stop there. If you need a mechanical contractor that can handle commercial HVAC assignments, including furnace repairs, look no further than Aztec Mechanical. Our technicians provide commercial air conditioning repairs and air conditioning installations in Santa Fe, New Mexico, and no job is too challenging for our team. Plus, if you need a comprehensive, turnkey design-build resource that can tackle jobs of any size or scope, we can and will step up to the plate to exceed your expectations.
We Are Here to Help!
Without question, this state is a fantastic place to live and work, but the heat can get quite oppressive during the summer months. When you need an AC repair, a swift response is a must, and that is exactly what you get when you contact our company. Whenever you need us, you will be able to reach one of our Santa Fe, New Mexico AC service and installation professionals at 505-884-2770.