Ductless A/C Options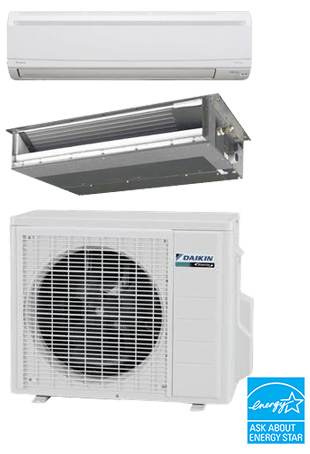 Ductless air conditioning systems are an excellent choice for home or business. These systems can be the solution for server rooms, conference rooms, spaces with no ductwork or buildings that were not originally designed for air conditioning such as many in Santa Fe. Aztec Mechanical's expert sales team can provide custom options that fit the needs of each business or homeowner. Our team of technicians are trained and fully qualified to repair and maintain all makes and models of ductless air conditioners.
What Are Ductless Air Conditioners?
A ductless air conditioning system, typically referred to as a mini split system, provides zoned air conditioning and/or heating without ductwork and air distribution. Like refrigerated air conditioners, mini split systems have an outdoor compressor/condenser unit and an indoor air handling unit mounted to the wall. There are also systems with the indoor unit above a lay-in ceiling.
The main advantage of ductless air conditioners and heat pump systems is their small size and flexibility for cooling individual rooms or areas. Each zone has its own thermostat, so you only need to cool the space when it's occupied, saving money and energy.