Preventative Maintenance for HVAC in New Mexico, and Commercial HVAC Services for Santa Fe, Albuquerque and Rio Rancho, NM
Aztec Mechanical is your turnkey HVAC resource.
Our expert technicians can keep your system humming at peak efficiency at all times when you enter into a year-around maintenance agreement with us.
We replace filters, inspect belts and pulleys, address condenser and evaporator coils, make sure your electrical connections are secure, lubricate moving parts, and adjust fan and blower motors when necessary. Each system is going to have its own preventative maintenance requirements, and we will set up a maintenance schedule that is ideal for your system and your facility.
We provide preventative maintenance, installations, and repairs in Santa Fe and Albuquerque, and we extend our services outward to the surrounding areas. You protect your initial investment when you perform the necessary preventative maintenance, and you can nip potential problems in the bud. If you scrimp on maintenance to save money, in the end, you may spend a great deal more on major repairs or a total HVAC system replacement.
Reasons for an A/C Maintenance Checklist
Are your electric bills much higher than last year?
Did the a/c seem to never turn off?
Did you find yourself always turning your thermostat to a lower setting trying to cool your facility / office?
Did you notice if your a/c turns off and then turn right back on again?
Was the a/c unit making more noise than usual when running?
Make the Aztec Connection!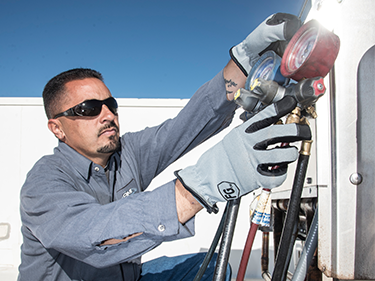 The investment that you make when you have a commercial HVAC system designed and installed into your facility is a considerable one. The initial outlay is part of the equation, but you are going to incur energy expenses on an ongoing basis. Efficient operation of your heating and air condition system is going to be essential so that you can keep your energy costs to a minimum. Installing the right system in the first place is key, but regular preventative maintenance is equally important.
We have developed a reputation as one of the premier commercial heating and air conditioning installation, service, and maintenance companies in the state of New Mexico. Our satisfied customers have spread the word, and we continue to build on this reputation each and every day. If you are looking for a reliable and responsive HVAC resource, you have found the right company.
Now let us help you evaluate your system and together we can make your office/facility a more comfortable, clean, efficient place to work. In addition to accepting all major credit cards, we offer commercial & residential finance options. For more information, contact us or give us a call us at (505) 884-2770 and one of our knowledgeable HVAC experts will answer all your questions and help you set up a maintenance schedule
if you're ready to protect your investment.
We are one of the most trusted HVAC contractors in the state
Our Service area is Albuquerque up to Santa Fe including Gallup, Belen, Moriarty and Socorro
We are committed to delivering the finest designs, installations, maintenance and service available anywhere. We can bid your project as designed and offer value engineering or a complete redesign to get you back in budget, if necessary. We are experts in cost control, so we listen to your needs and optimize the cost.