New Mexico Air Conditioning Repair in Albuquerque, Rio Rancho, Santa Fe, NM, and the Surrounding Area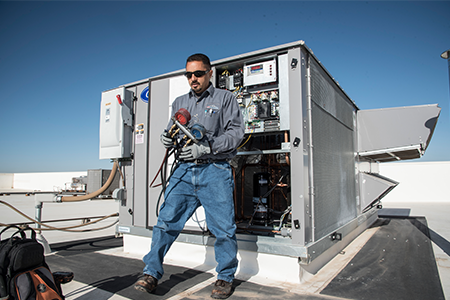 Whenever you need an air conditioning repair in Albuquerque, nearby Rio Rancho, or Santa Fe, New Mexico, Aztec Mechanical will be standing by to help. When we say "whenever," we are using the word quite literally. If you are without air conditioning during the oppressive summer months, you are going to be absolutely miserable, and these conditions can present health risks for some individuals. We know that emergencies can strike at any time, so our air conditioning repair service hotline is fully staffed 24 hours a day, seven days a week.
You can always get in touch with us, and you can rest assured that we will provide a very swift response. Plus, our highly trained, certified mechanical contractors in the field have a thorough understanding of all types of systems, and every make and model that is out there. They have all the necessary tools and many parts on their trucks, so they will usually be able to complete AC repair jobs during a single visit.
Air Conditioning Repair Costs
Our mechanical contractors can do some amazing things, but they are not magicians or miracle workers. In some cases, an old workhorse simply must be replaced, and this is another area of expertise for our company. We carry a wide range of brand new AC systems that are manufactured by the most highly regarded companies in the business, names like Goodman, Trane, and Carrier.
These are all energy efficient, Energy Star approved air conditioners, so the cost of the new system will be offset by lower cooling costs. Our mechanical contractors are certified by these companies, so the warranties are in full effect. Your new AC system will be installed with impeccable precision, but the job will not take forever, so you will be able to enjoy your home in total comfort before you know it.
We are always available to assist individual homeowners, and our offerings do not stop there. If you ever need a mechanical contractor that can handle commercial air conditioning repair assignments, look no further than Aztec Mechanical. We also provide design/build services for businesses, schools, hospitals, government buildings and complexes, and all other non-residential structures.
Call or Click!
If you would like to send us a message, you can fill out our contact form, and you can reach one of our Santa Fe-Rio Rancho-Albuquerque air conditioning repair consultants by phone at 505-884-2770.