Aztec Mechanical: Rio Rancho, NM AC Repair and Installations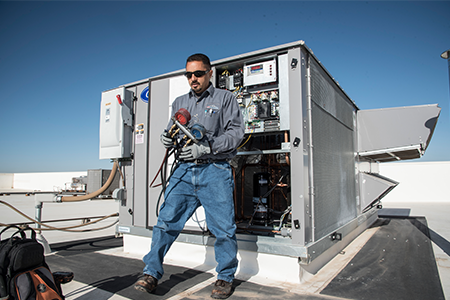 If you need HVAC services in Rio Rancho, New Mexico, look no further than Aztec Mechanical. We have been a premier provider of air conditioning repair and AC installation in this area since 1977, and we have earned a reputation for quality work at affordable prices. This is an extraordinarily unique Sandoval County city that has grown steadily over the years. It is a relatively large economic hub in its own right with a population of over 90,000 residents, but it is also part of a larger metropolitan area, so it is a great place to operate a business.
The weather in this part of New Mexico is seasonal, but it can get very hot during the summer months, so a properly functioning air conditioning system is a must. As a long-standing Rio Rancho, NM AC service and repair company, we have an in-depth understanding of the climate in the area, and we are always on the cutting edge with regard to state-of-the-art equipment. We are full-service HVAC contractors, so our company can be of assistance during the design/build phase, and we custom craft all of our solutions to suit the needs of each respective client.
Aztec Mechanical has worked on medical facilities, manufacturing sites, industrial and scientific properties, educational campuses, and many other types of commercial HVAC design/build assignments. The expertise that we bring to the table is very hard to find in this area, and we have built our reputation as the Rio Rancho, NM mechanical contractor that the business community can rely on to successfully complete any and all HVAC design/build projects.
Rio Rancho, NM Air Conditioning Repair
In addition to our design and installation work, we are also capable of AC and furnace repair work of all kinds, and we provide prompt responses to emergencies. Our emergency air conditioning repair hotline is open around-the-clock, so we always have you covered, because we know that an extended AC outage can yield very negative consequences. Plus, we also offer annual HVAC maintenance programs, and this is a very valuable service because an ounce of prevention can be worth a pound of cure.
We Will Be Here When You Need Us!
Whenever you need effective and affordable HVAC services in Rio Rancho, New Mexico, we will be ready, willing and able to spring into action. We can be reached by phone 24 hours a day at 505-884-2770.